About the Physiotherapist
Susan Addison
BSc PGcert MCSP. Member of AACP, ACPOMIT, ESPOIG
Susan Addison has over 17 years experience as a physiotherapist , with a career working in a variety of settings and populations. Including NHS, private practice, elite athletes GP practice and with individuals who have to function at high levels of occupational fitness. Susan qualified as a physiotherapist in 1999 where she started her career at Bassetlaw hospital for the NHS and realised after two years she wanted to specialise in musculoskeletal conditions.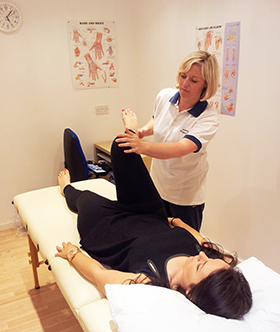 Susan then starts to work in a regional rehabilitation unit in Suffolk and built up a reputation as a shoulder and musculoskeletal clinical specialist from the outcomes that she achieved. It was here she developed further skills in injection therapy and the use of diagnostic ultrasound as an adjunct to her treatments and diagnostic skills.
Susan set up a tertiary shoulder service including a shoulder course where patients would be referred from different parts of the UK for a specialist opinion and treatment. Susan was also responsible for organising the training and development of the region. Susan then moved to Lincolnshire in a similar role and continued to use her specialist skills in injection therapy ,ordering MRIs and utilising her extensive knowledge base in manual therapy.
Susan moved to North Yorkshire in 2012 with her family. Susan continues to work with individuals who have to functional at high levels of occupational fitness and she also works as an extended scope practitioner being able to provide services such as ordering investigations (x-rays ,MRIs) ,using corticosteroid injections for musculoskeletal conditions including arthritis and referring for specialist opinion such as Neurosurgery, rheumatology, orthopaedics.
Susan has experience working with, assessing, diagnosing and treating athletes from a variety of sporting backgrounds and abilities from casual exercisers to an Elite GB modern pentathlete. Susan has organised and travelled to various parts of the UK providing lectures and bespoke courses on problems shoulder conditions, rib dysfunctions and vascular problems in the upper limb. Susan's goal is to accurately diagnose and explain an individual's problem. Rooting out the main cause of pain and dysfunction. She has a clear understanding of the frustrations experience by athletes and individuals wanting to recover from their injuries as quickly as possible.
Susan uses the latest evidence based practice to ensure effective recovery and understands the importance of providing accurate information to the individual to have an understanding of what is happening to their body in order for them to regain control. Susan also offers modified Pilates tuition and is trained with the APPI (Australian physiotherapy and Pilates Institute).She can offer this on a face-to-face basis or as part of class based therapy, as well as for pre and postnatal women. Susan's aim is to provide honest, expert advice whether it is your first experience of seeing a physiotherapist or if you've already seen other healthcare professionals.
Outside of work Sue's main interests are climbing, mountaineering and generally keeping fit.She enjoys running and being outdoors in general as well as spending time with her family.
For more information on the conditions we treat and services we offer, or to book an appointment please call
07432 826432 or email us at info@dalesphysiobedale.co.uk






Special offer!
10% discount available Ring 07432 826432 to find out if you are eligible.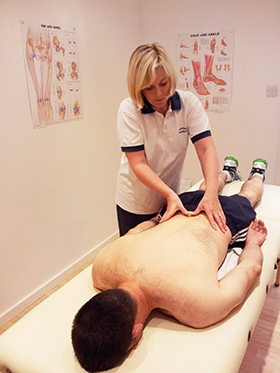 Area's We Cover
Northallerton
Catterick
Bedale
The Yorkshire Dales villages
Darlington
Thirsk
Ripon
Stokesley
Conditions We Treat
Find Us
The Dales Physiotherapy clinic, The old Hatchery, Blind Lane, Aiskew, Bedale. DL8 1BW